We started this café with one clear vision - to share our true love of coffee. Our dream was to open a café that would bring the community together.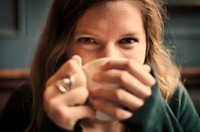 Our Story
We decided to start a coffee business just after we sold our carpet cleaning company. What unified us was our passion for a good coffee and we decided to chase this dream and commit to it. We always had good taste for coffee but we had to step it up to the next level
Our Coffee
We only use the finest Arabica coffea from Ethiopia which explains the good taste and strong aroma.
Sincerely,
Helen King